Easy Sea Salt Chocolate Chip Cookies ~
Hi Friends!  Over on my Instagram account, I promised that I would post the recipe for the fabulously delicious sea salt chocolate chip cookies that my daughter Erica and I have made a few times. I cannot take full credit for the recipe.  It's based off a post on modernhoney.com which is based off the Walnut Chocolate Chip Cookie Recipe from Levain Bakery.  I've never been to Levain Bakery, so I can't tell you if the taste is the same.  All I know is that I left out the walnuts and added sea salt to my version and the cookies are fantastic. (Scroll down if you want to skip the story and go right to the recipe.)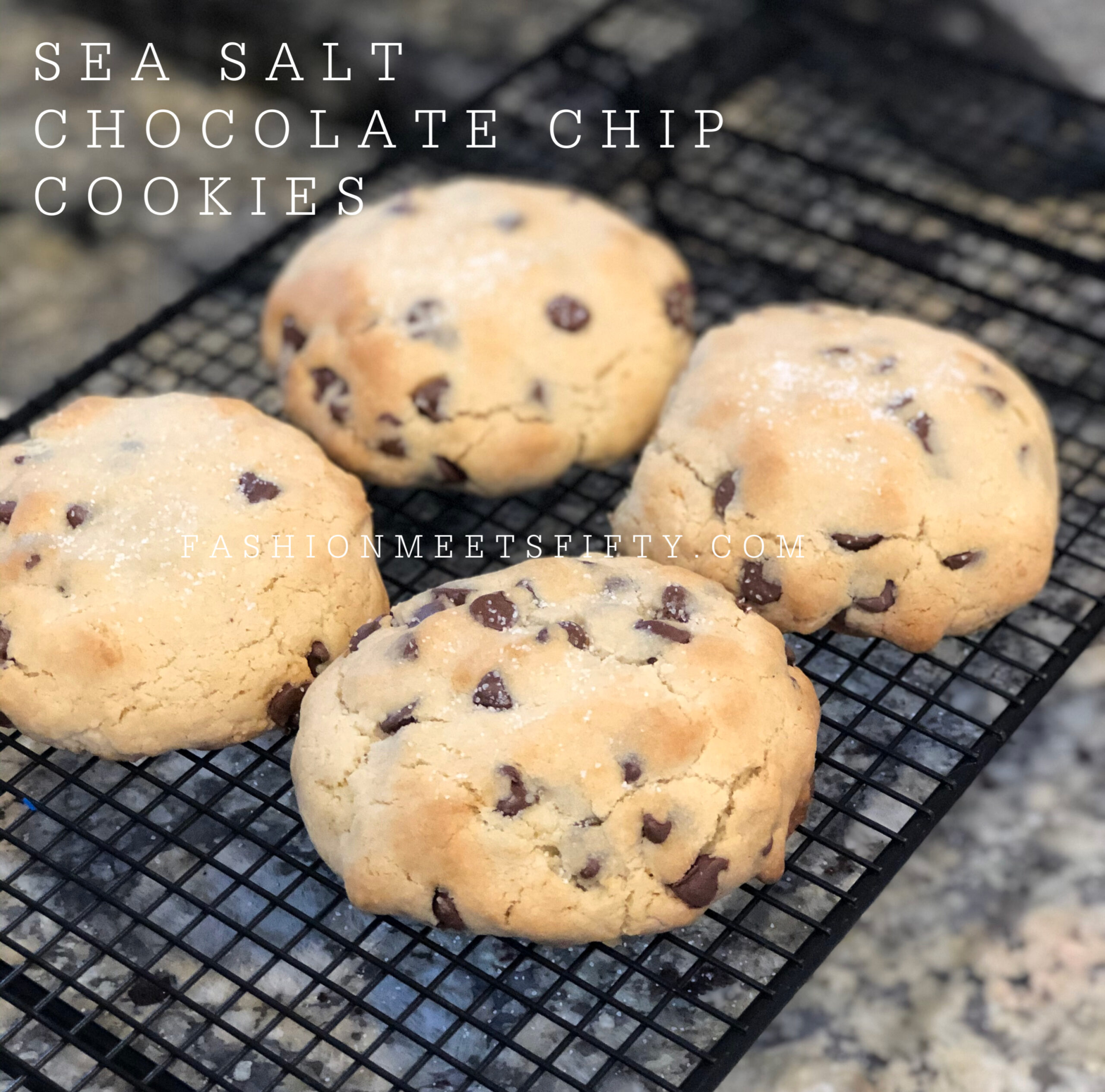 I stumbled upon the recipe during quarantine, when I luckily had a plethora of baking supplies on-hand.  The cookies are so delicious and they are the size of cheeseburgers.  Seriously.  One cannot consume an entire sea salt chocolate chip cookie alone in one sitting.  As I said, the original recipe doesn't call for sea salt, but as soon as I took the very first bite, I KNEW that adding a little bit would send the deliciousness of the cookies off the charts.  I was right.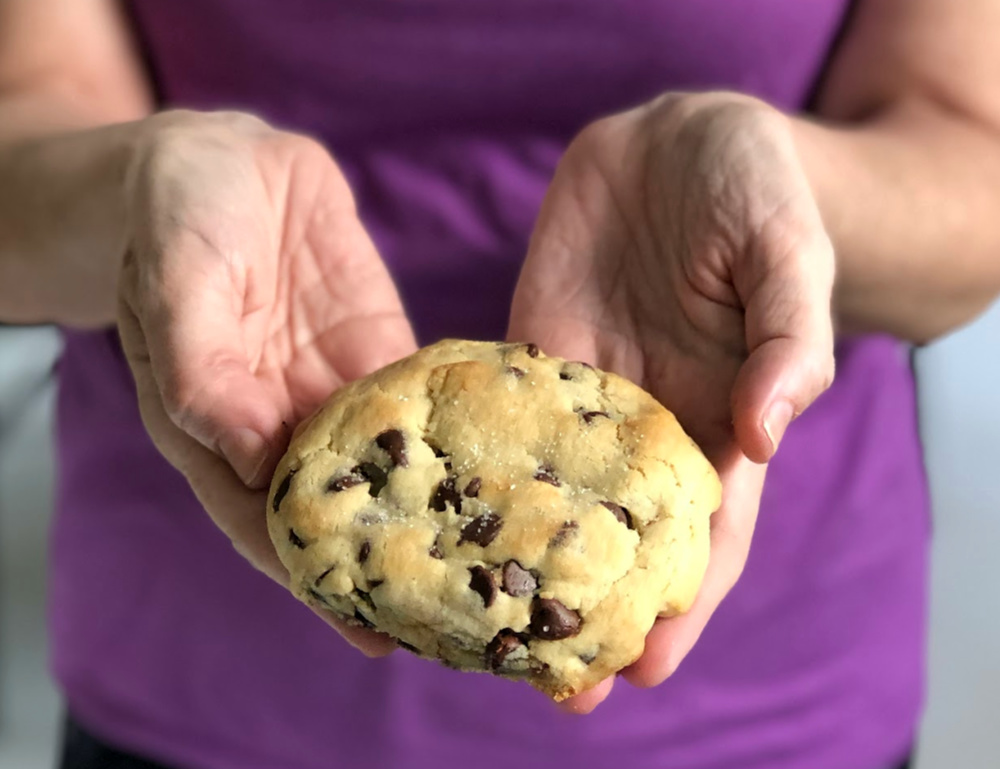 MOST IMPORTANT TIP:
Before you begin, the most important part to remember is that you MUST use cold butter.  It's so tempting to melt the butter because melted butter makes the mixing part so much easier.  However, in order for the recipe to work, you have to use cold butter right out of the fridge.  DO NOT even let the butter get to room temperature.  It has to be cold.  Perhaps if I would have paid more attention in chemistry class I could explain why cold butter works differently than melted butter, but that is a post for a different day and you all know by now that I'm not a cook.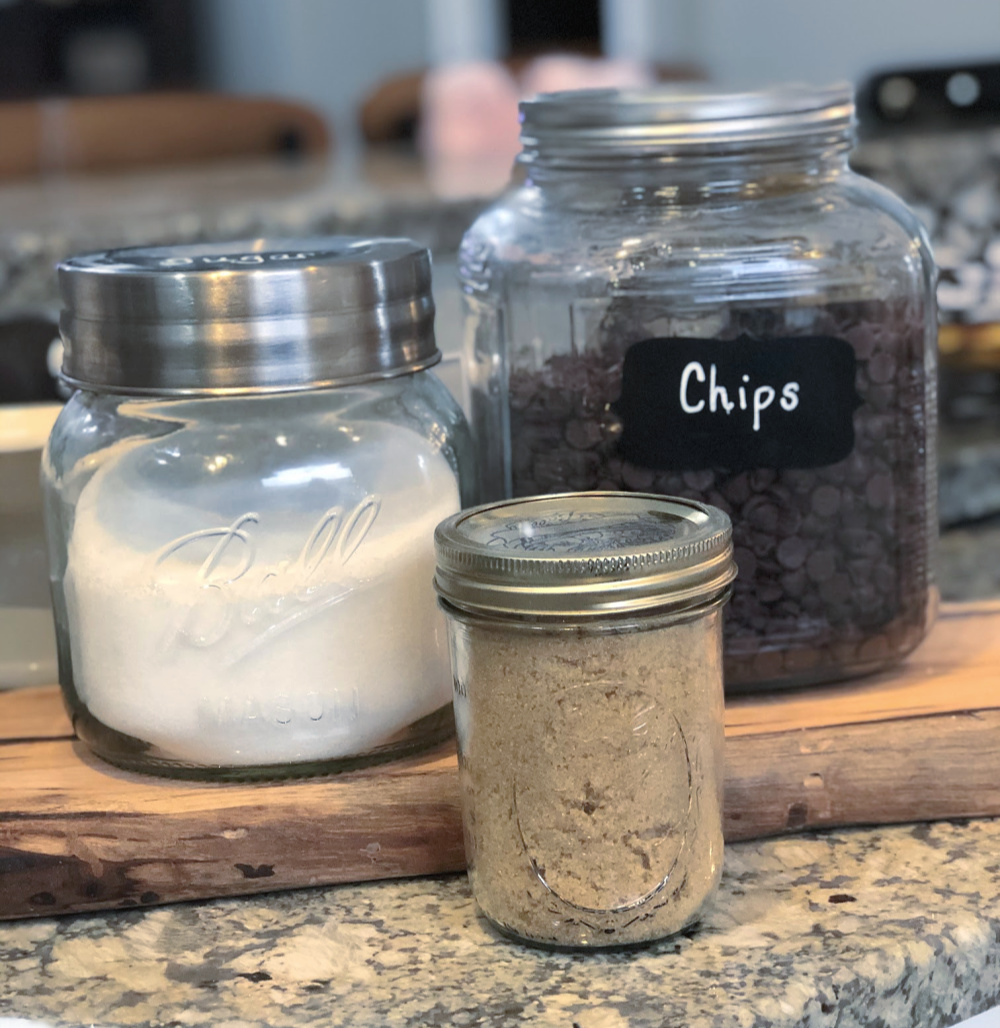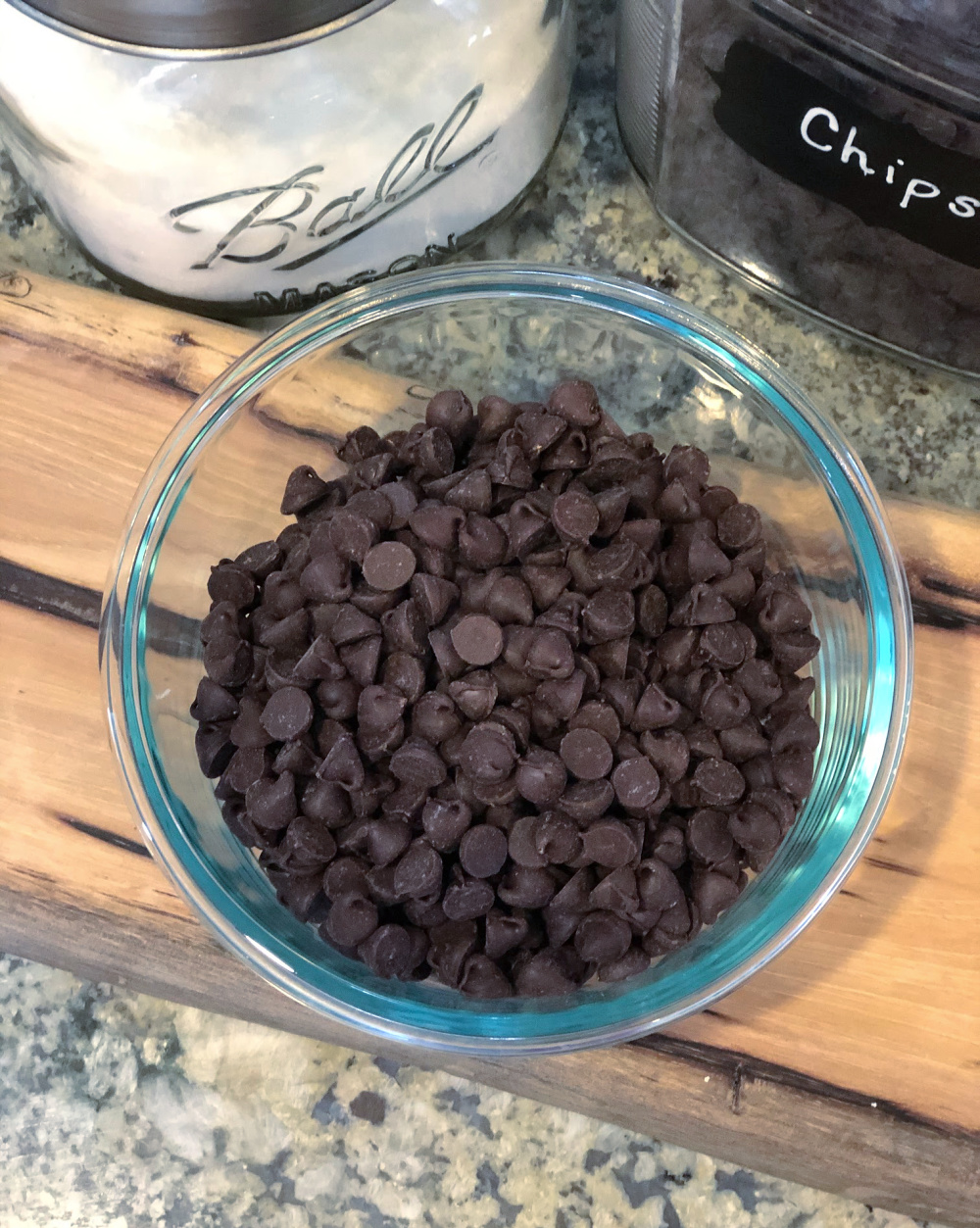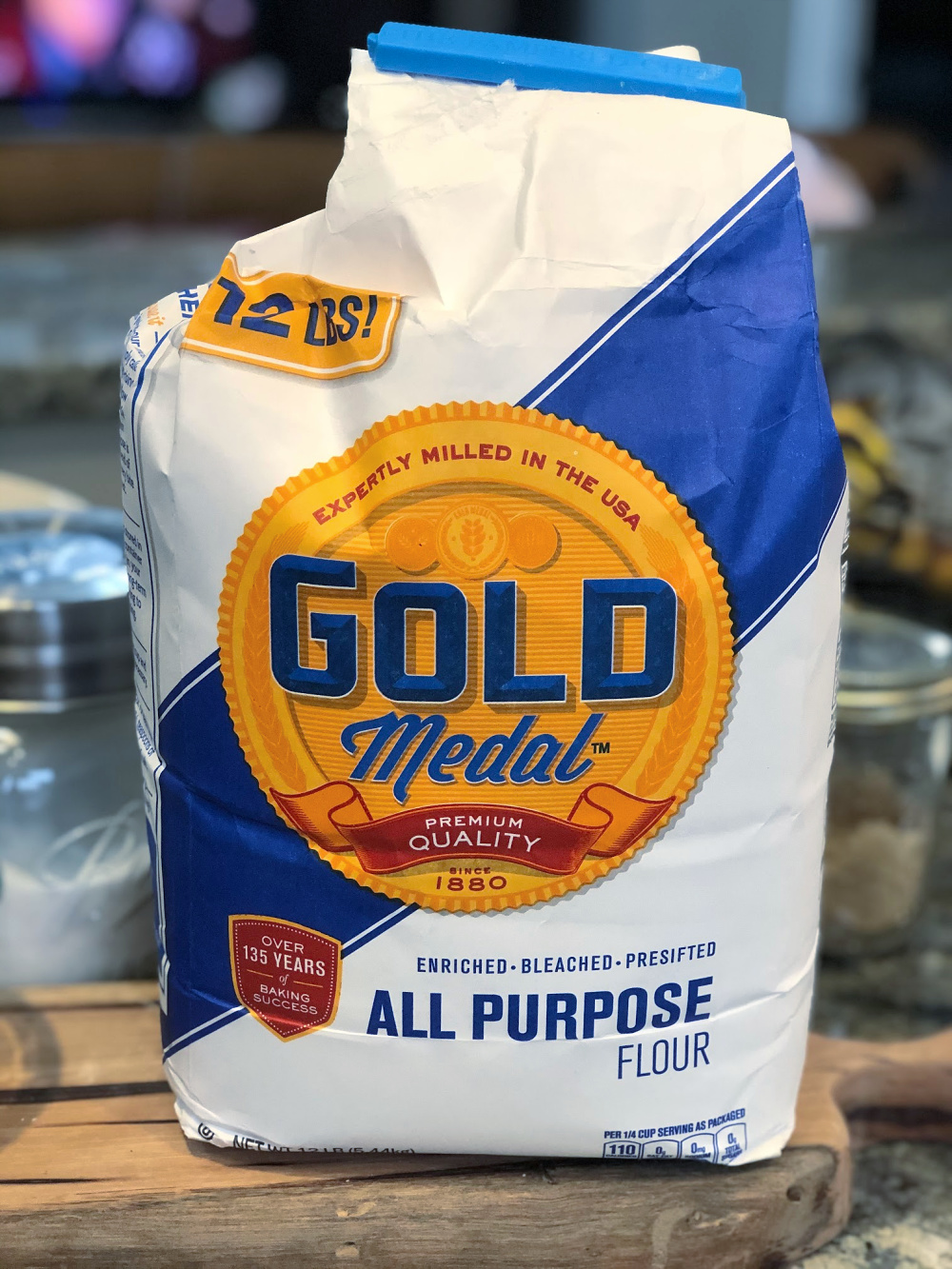 INGREDIENTS:
1 cup COLD butter, cut up into tiny cubes
1 cup brown sugar (I don't pack it down)
1/2 cup sugar
2 eggs
3 cups all-purpose flour
1 tsp cornstarch
3/4 tsp baking soda
3/4 tsp salt
2 cups chocolate chips
Shaker of sea salt (optional)
STEPS:
This is the perfect recipe to make with your kids or grand kids.  Erica mixes the wet ingredients while I'm putting together the dry ingredients, then we meet together for the mixing of the two and for forming the cheeseburger.  Oh, wait! I mean the cookies.
WET INGREDIENTS:
 add the butter, brown sugar, and regular sugar and mix until well-blended
 beat in two eggs one at a time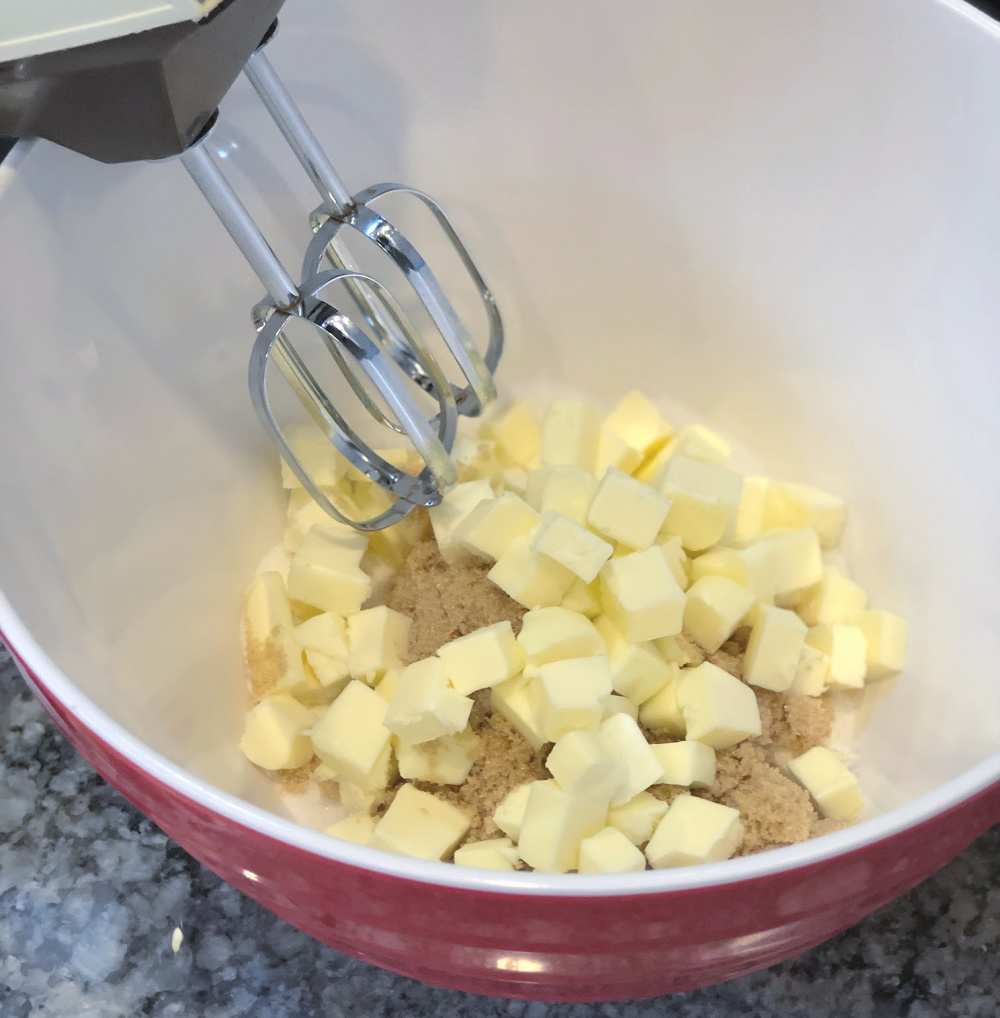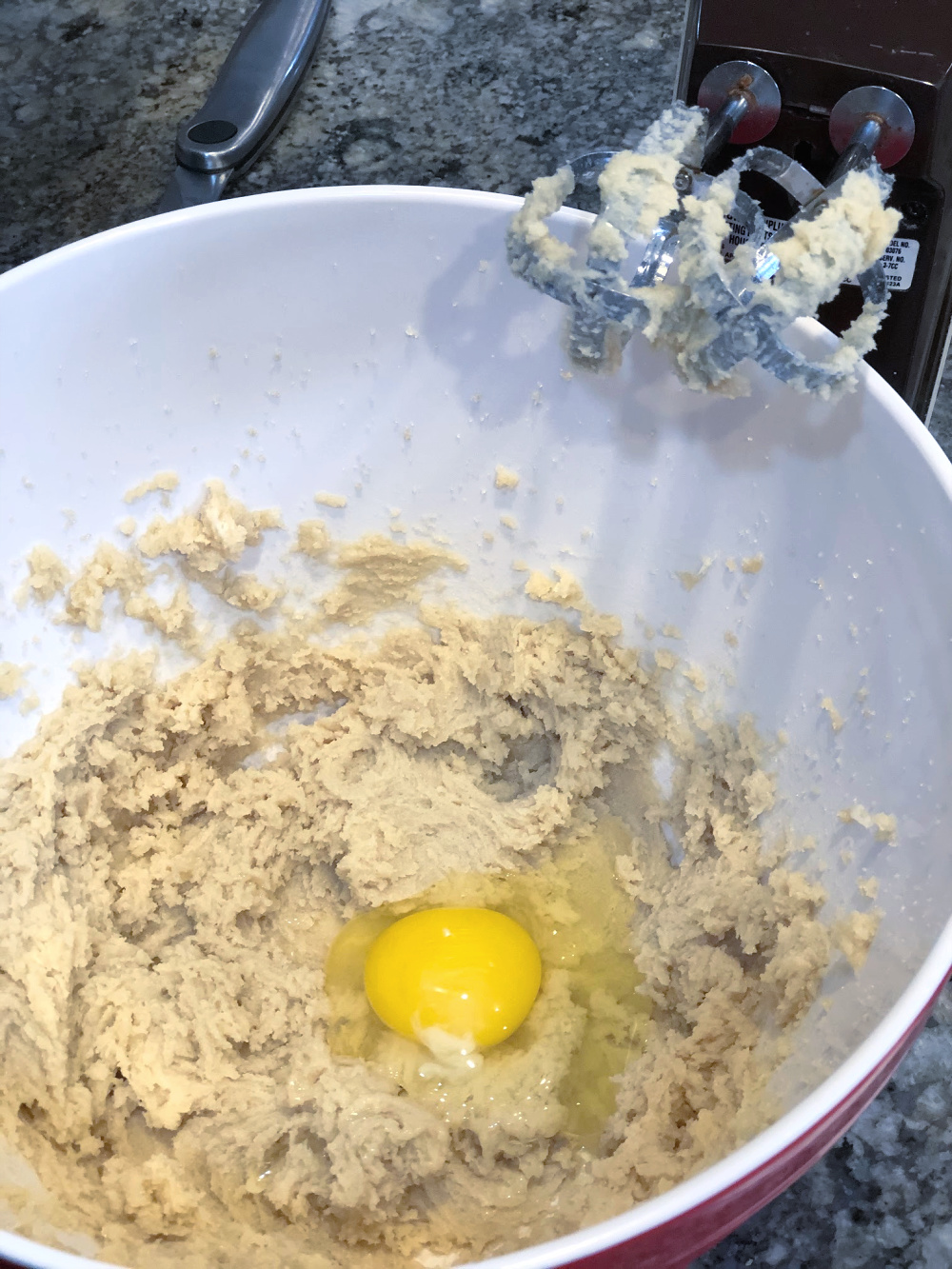 Yes, that is a HAND MIXER.  I got it as a gift for my wedding shower over 33 years ago!  I don't cook or bake enough to justify a fancy stand mixer.  I actually bought one on clearance at Target and it sat in my garage unopened for a few years.  I finally gave it to Adrienne when she moved into her first apartment.  But then COVID hit, and now I don't know how I've survived this long without a stand mixer.  Hello? Santa?
DRY INGREDIENTS:
in a separate bowl, mix together the flour, cornstarch, baking soda and salt
whisk together so the ingredients evenly distribute throughout the flour
add the dry ingredients a little at a time to the wet ingredients and stir together with a spatula
stir in the chocolate chips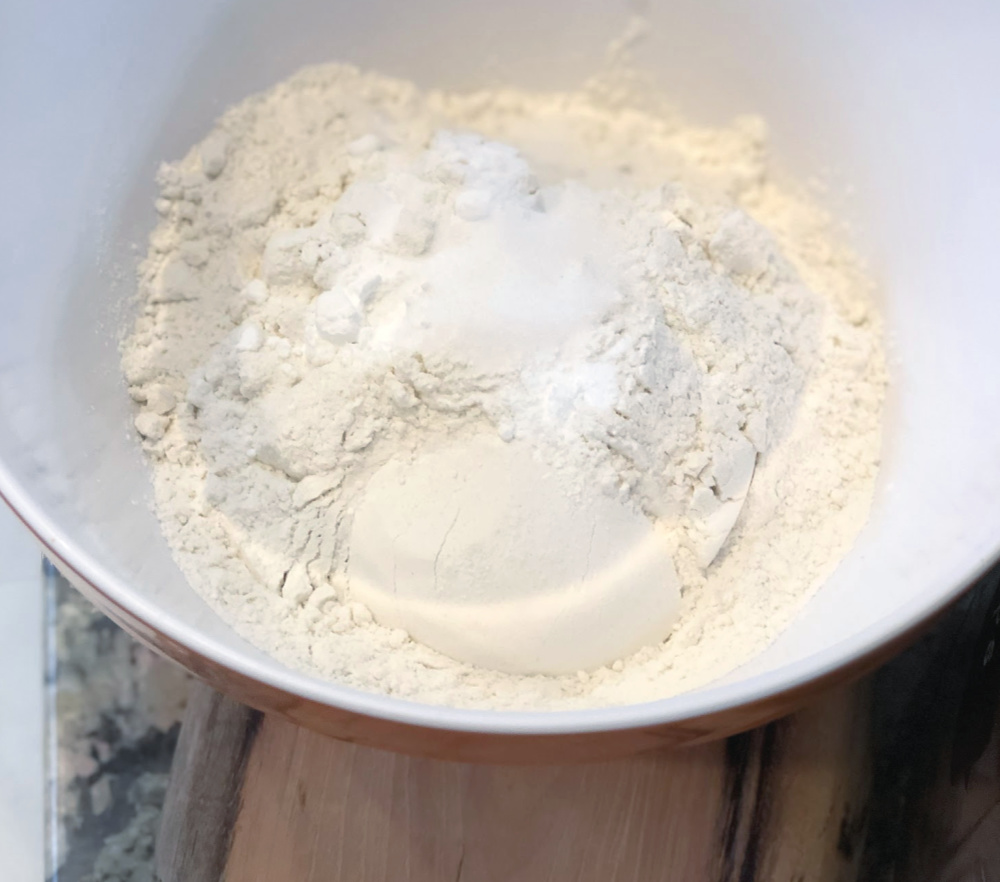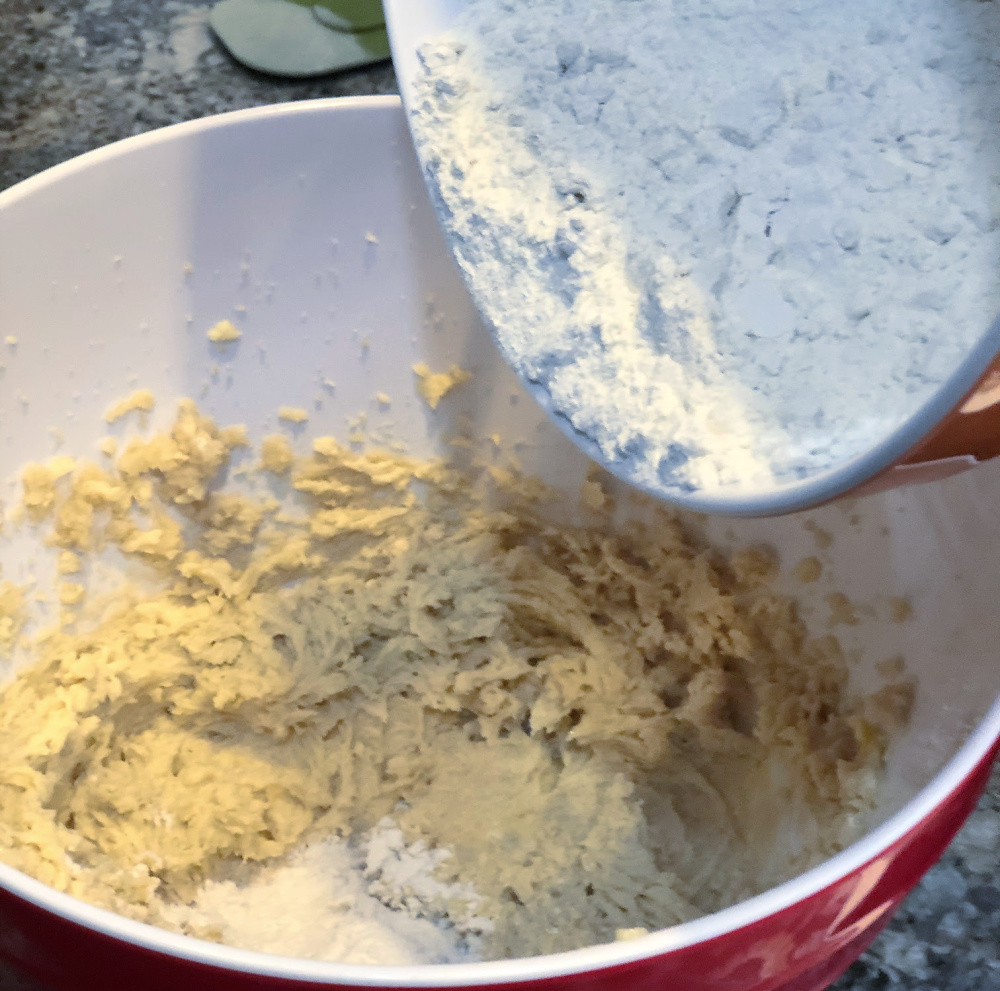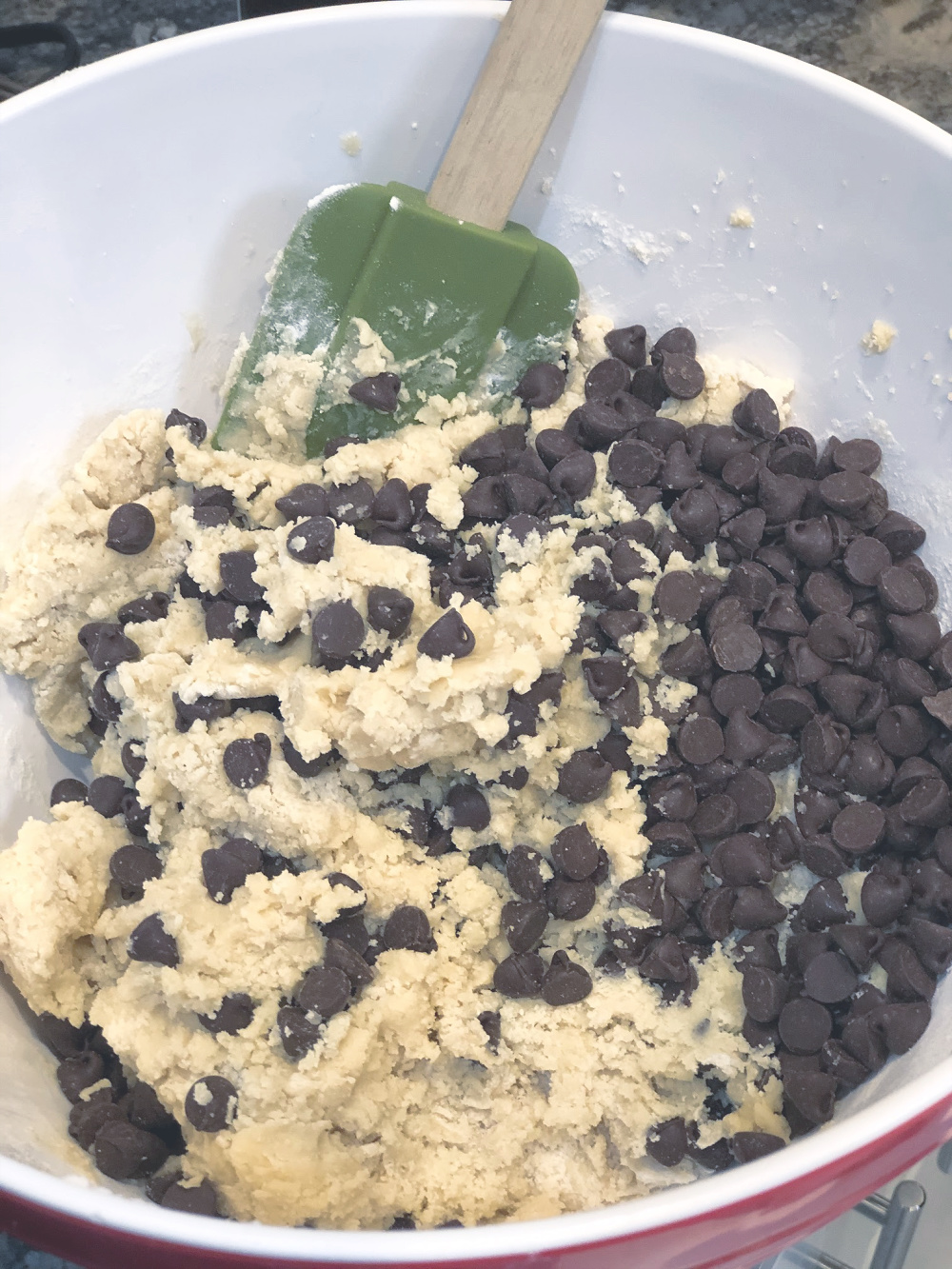 NEXT STEPS:
The recipe makes eight (8) cookies, so the best thing to do is to divide the mix in half and set one half aside
With half of the mix, form four (4) cheeseburger-patty-sized cookies
Place on cookie sheet
Bake at 410 degrees for 10-12 minutes until light golden brown
Sprinkle with sea salt (optional)
Repeat with the other half of the mix for a total of eight cookies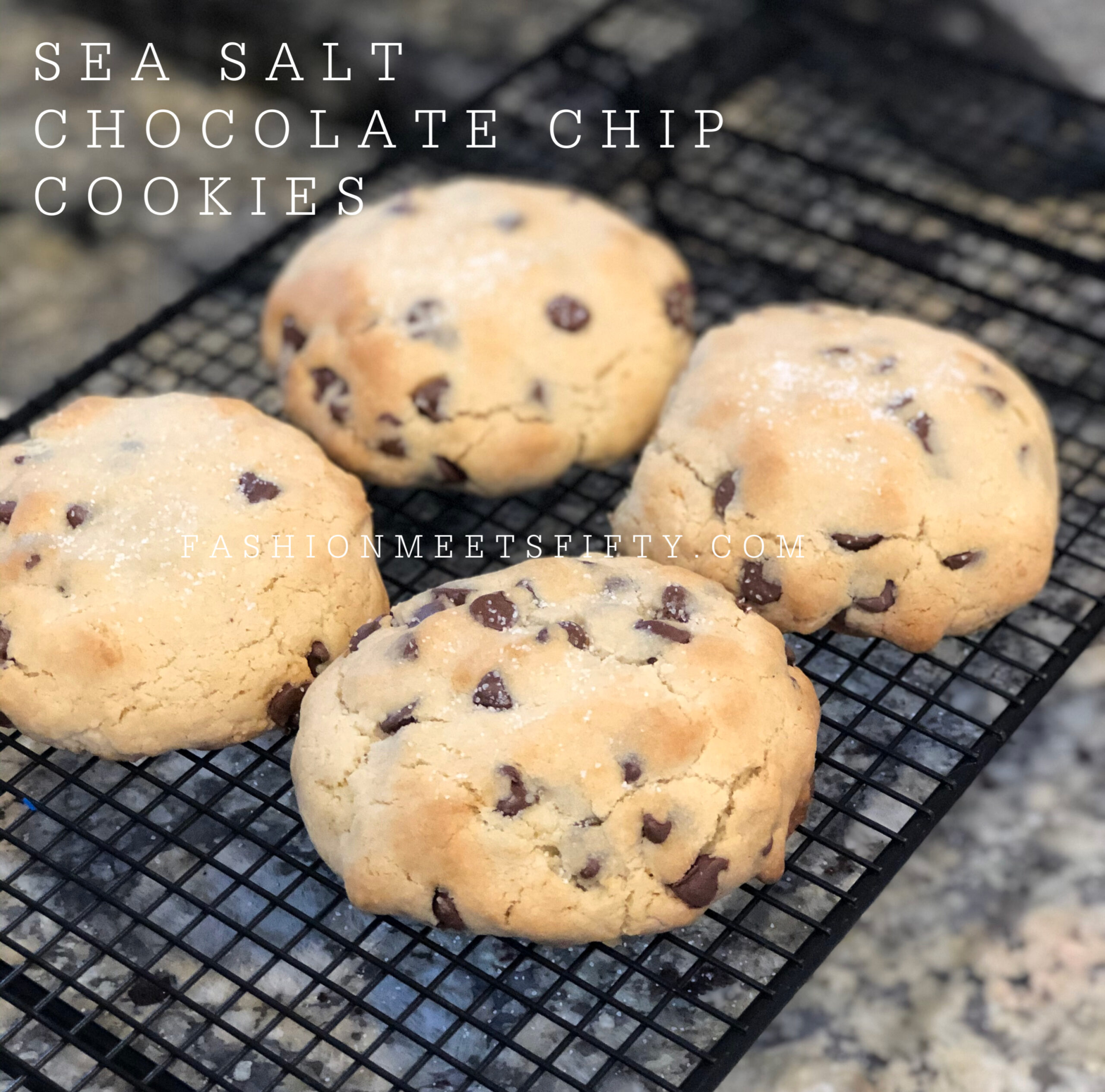 Sea Salt Chocolate Chip Cookies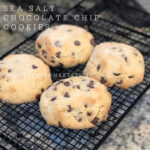 Delicious Cookies the Size of Cheeseburgers
1 cup cold butter
1 cup brown sugar
1/2 cup sugar
2 eggs
3 cups all-purpose flour
1 tsp cornstarch
3/4 tsp baking soda
3/4 tsp salt
2 cups chocolate chips
shaker of sea salt (optional)
Preheat oven to 410 degrees

2. In one large mixing bowl, use a mixer to mix together the cold butter, brown sugar, and sugar

3. Mix in one egg at a time

4. In a second large mixing bowl, stir together the flour, cornstarch, baking soda, and salt

5. Slowly add the dry ingredients to the wet ingredients, mixing with spatula until combined

6. Stir in the chocolate chips

7. Divide the mix into two parts; set one part aside

8. Make four large patties with 1/2 the mix (cheeseburger-size)

9. Place on ungreased cookie sheet

10. Bake 10-12 minutes until light golden brown

11. Sprinkle with sea salt (optional)

12. Repeat with remaining half of mix
I found a really cool hand mixer which might be a great replacement for the one I have. Take a look! This is an affiliate link, which means if you click on the link and make a purchase, you don't pay any extra, and I might earn about 25 cents in about six months. Yea, Capitalism. 😉