Since I am returning to the runway this weekend after a 21 year hiatus, I have found it funny (and a huge relief) that everything I used to do is coming back to me. I thought I would share some runway modeling basics for those of you who might be interested in discovering what really goes on behind-the-scenes or for those of you who are just beginning to embark on a career as a runway model.
Runway modeling is much different than print and commercial modeling. One big difference is that as a runway model, we had to always look runway-ready, especially when we went on castings. (A print/commercial model usually always had to look the opposite: very natural with very little to no make up.) Someone once told me that as a runway model, one should never assume that the client could use his or her imagination to envision what you would look like with hair and make up done, ready to strut the catwalk. It was always important to show them how you would look by showing up to every casting and every fitting prepared.
Since it has been two decades since my last show (holy cow) I have had to start from scratch in preparing my model bag to get ready for tomorrow's fitting. (To read more about the show I will be walking, click HERE.)
Here is a peek at what is needed to be prepared and professional for a fitting.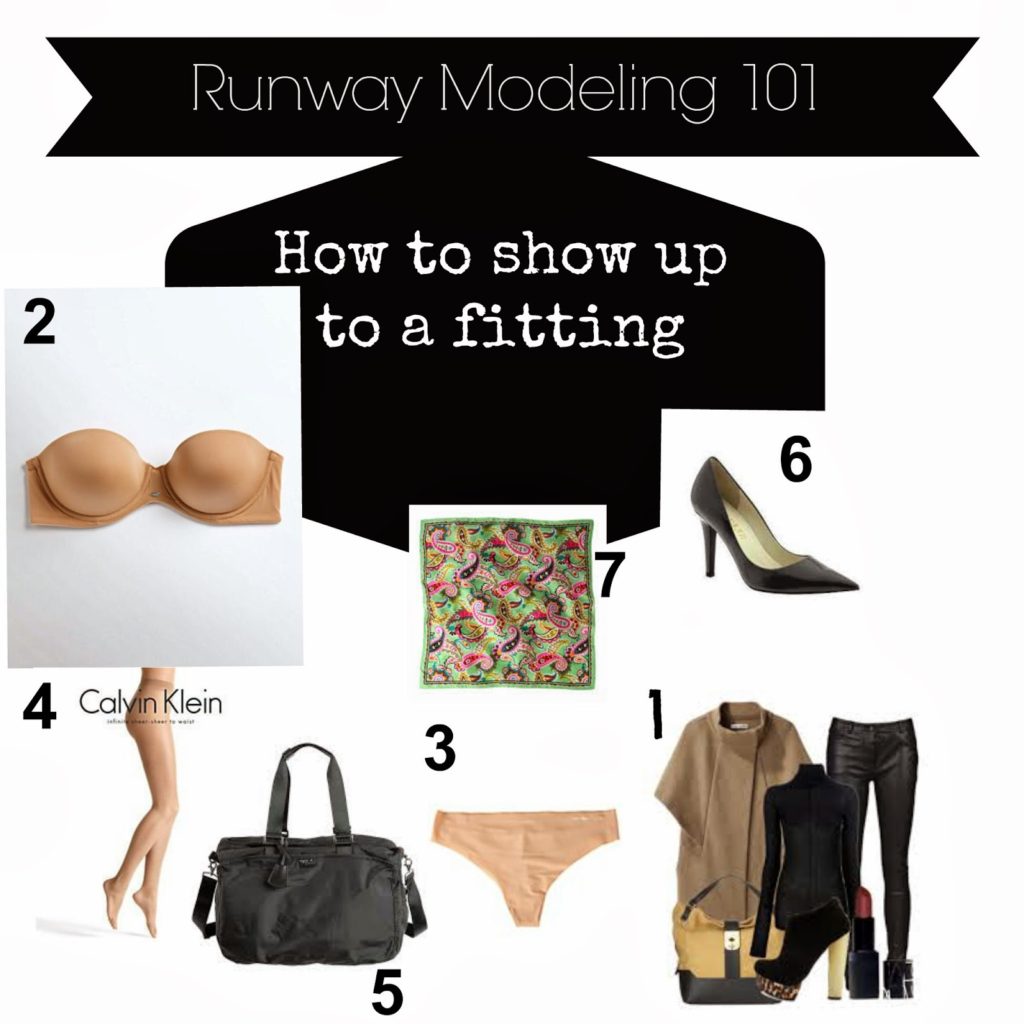 1) Look like a model! Be sure to dress the part.
2) Wear a seamless, low-cut, strapless bra in nude to avoid it showing from underneath the outfit.
3) Wear a nude high-cut thong to avoid panty lines.
4) Wear a pair of nude sheer-to-waste pantyhose. This helps to keep everything smooth underneath the clothing.
5) Be sure to have your model bag. A must.
6) Inside your model bag, include a pair of basic black pumps. It wouldn't hurt to include a pair of basic black flats, too. This way when you try on the clothes it is easy for the client to really see how the outfit looks on you, and it is one less thing that they have to do. They don't want to be bothered with finding you a pair of shoes.
7) Most importantly, include a silk scarf in your model bag. You will use this to protect the clothing from make up. Make sure the scarf is big enough to cover your head/face. Place the scarf over your head/face before you try on pullover tops. The scarf works wonders to keep the client's clothes free from your make up.
Coming Up…Packing your model bag for the actual show.
Updated: Do's and Don't for the Fitting

DO: shut off your phone and leave it in your model bag, arrive a few minutes early (late doesn't cut it AT ALL in this business,) keep your fingernails clean and short with a neutral color or no color at all
DON'T: wear any jewelry (leave it home,) wear any perfume or deoderant